Image 2 of 15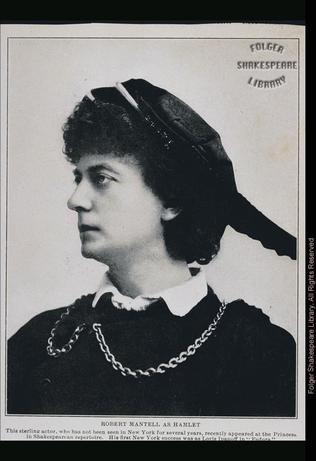 (Click on image to get enlarged view.)

Description: Portrait of Robert Mantell as Hamlet. Bust length, forward, head to left in profile. He wears soft bonnet with plume. Caption below: 'This sterling actor, who has not been seen in New York for several years, recently appeared at the Princess in Shakespearean repertoire. His first New York success was as Loris Ipanoff in `Fedora'.'

Folger Act/Sc/L: n/a
Arden Act/Sc/L: n/a
TLN: n/a

Artist: Anonymous
Artist (Original work): Anonymous
Date:
Date (Original work):
Medium: Photograph (reproduced in newspaper or magazine)
Size: 14 x 10.8 cms; 5 1/2 x 4 1/4 in
Actor: Mantell, Robert Bruce
Production:

Location: FSL. Art Vol. a43 vol. 1. From extra illustrated copy of THE NEW VARIORUM EDITION OF SHAKESPEARE: HAMLET (Philadelphia: Lippincott, 1877), opp. p. 390.