Image 17 of 20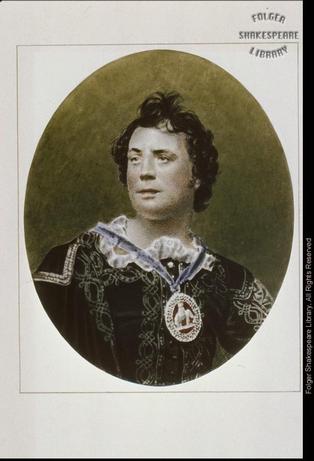 (Click on image to get enlarged view.)

Description: Portrait of William Augustus Conway (1789-1828) as Hamlet. Half length, forward, facing slightly left. He wears embroidered black doublet, and around his neck on a blue ribbon he wears a silver and red Order of the Elephant.

Folger Act/Sc/L: n/a
Arden Act/Sc/L: n/a
TLN: n/a

Artist: Anonymous
Artist (Original work): Anonymous
Date:
Date (Original work):
Medium: Watercolour (unsigned and undated)
Size: 14 x 11.3 cms; 5 1/2 x 4 3/8 in (oval)
Actor: Conway, William Augustus
Production:

Location: FSL. Art Vol. a40, Vol. 35. From extra-illus. THE WORKS OF WILLIAM SHAKESPEARE, ed. Henry Irving & Frank A. Marshall (New York: n.p., 1893), before p. 15.