Image 18 of 20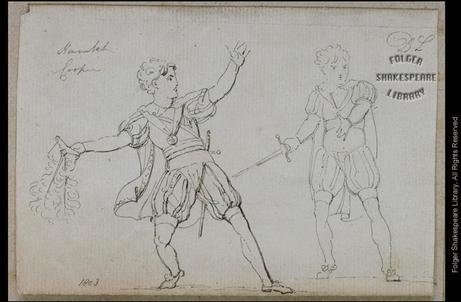 (Click on image to get enlarged view.)

Description: Two sketches of Cooper as Hamlet. That on left shows him in pose of 'start', with weight on rear foot at left, left arm extended behind holding plumed hat, and right arm raised and extended in front of him to the right, He wears Elizabethan costume, with sword and short cape, and insignia on ribbon about his neck. Figure on right gives face-on view of Hamlet, his left arm extended forwards towards the viewer. In his right hand he holds his sword, raised to about waist height.

Folger Act/Sc/L: n/a
Arden Act/Sc/L: n/a
TLN: n/a

Artist: Harlow, George Henry
Artist (Original work): Harlow, George Henry
Date: 1803
Date (Original work):
Medium: Pen and ink drawing
Size: 9.3 x 14 cms; 3 5/8 x 5 1/2 in
Actor: Cooper (Hamlet)
Production: Drury Lane, 1803.

Location: FSL. Art Vol. d47 no. 16 [c]. From George Henry Harlow, 'Original Drawings of Contemporary Theatrical characters' originally Belonging to Lady Hamilton, 1802-1806.