Image 1 of 3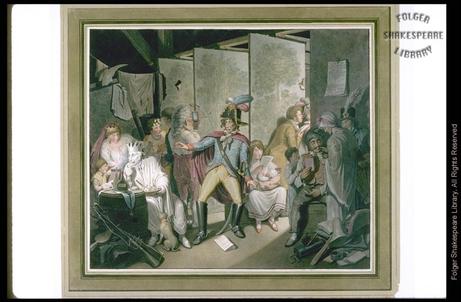 (Click on image to get enlarged view.)

Description: Backstage preparations for performance of HAMLET. At centre, Hamlet, in black three-cornered hat with red, white, and blue ostrich plumes, a blue coat, red cloak and black riding boats, practices his 'start,' the copy of the play on the floor at his feet. To the left, the Ghost reads over his part propped up on a stand on a barrel. On the barrel is a lighted candle and a bottle labelled 'Doppel Kimmel.' The Ghost has what appears to be a dish of boiled potatoes on his lap. He is dressed in a white crown and a long white garment and has a very white face, presumably the effect of makeup. Gertrude stands behind him with a potato (?) in her hand. Just behind Hamlet on the right sits Ophelia nursing a baby at her left breast while reading over her part which she holds up in her right hand. She wears a white dress, white stockings and pink shoes. She has flowers in her hair which hangs loose. Her arms are bare from the elbows. To the right on the wall hangs what appears to be a hand-written playbill (in German) announcing the play. Below it sits a soldier (Marcellus?) having his makeup applied by a woman while he reads over his part. Between Hamlet and the Ghost, just to left of centre at the rear, a man in red-brown breeches and a white wig, peers into a mirror as though adjusting his wig. Behind him a man and a woman talk animatedly. The wings at the side of the stage, each painted with trees (and somewhat torn) can be seen, and at the side of the stage, just behind Ophelia, a man in a brown coat appears to be reading aloud from a book (is this the prompter in action?).

Folger Act/Sc/L: n/a
Arden Act/Sc/L: n/a
TLN: n/a

Artist: Opiz, Georg Emanuel
Artist (Original work): Opiz, Georg Emanuel
Date:
Date (Original work):
Medium: Watercolour (signed)
Size: 29.5 x 34.3 cms; 11 7/8 x 13 1/2 in
Actor:
Production:

Location: FSL. Art Box O61 no. 1.