Image 2 of 3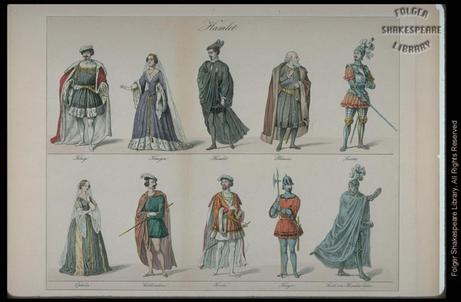 (Click on image to get enlarged view.)

Description: Ten costume drawings on a single sheet with German inscriptions. Hamlet wears black tunic and long black cape. Ophelia wears black dress with two bold gold stripes and a long white veil behind her. Claudius wears short ermine-trimmed black tunic; Gertrude wears long purple ermine-trimmed gown. Polonius wears three-quarter length black tunic and red-brown fur-trimmed cloak. Laertes wears armour with plumed helmet. Guildenstern wears short green tunic and long red-brown cloak. Horatio wears short orange tunic with fur trim and long red cloak lined in white. Soldier (Krieger) wears chain mail and red tunic and holds halberd. Ghost wears armour and plumed helmet with visor up, and a long grey cloak.

Folger Act/Sc/L: n/a
Arden Act/Sc/L: n/a
TLN: n/a

Artist: Anonymous
Artist (Original work): Anonymous
Date: n.d.
Date (Original work):
Medium: Lithographs coloured (unsigned)
Size: 30.5 x 39.5 cms; 12 x 15 1/2 in (35.5 x 48.5 cms full page)
Actor:
Production:

Location: FSL. Art File S528h1 no. 147.