Image 1 of 8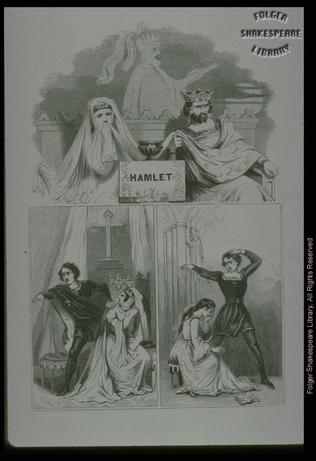 (Click on image to get enlarged view.)

Description: Three scenes from Hamlet (probably a frontispiece to an edition). Lower left scene depicts Closet Scene at moment of Ghost's appearance. It shows only Hamlet and Gertrude. Lower right scene shows Hamlet and Ophelia. Above both scenes is title and Claudius (at right) and Gertrude (at left), and above them the shadowy figure of the Ghost facing right.

Folger Act/Sc/L: n/a
Arden Act/Sc/L: n/a
TLN: n/a

Artist: Anonymous
Artist (Original work): Anonymous
Date: n.d.
Date (Original work):
Medium: Engraving
Size:
Actor:
Production:

Location: FSL. Art File S528h1 no. 126; FSL. Art Vol. f24 (unnumbered at rear).