Image 2 of 8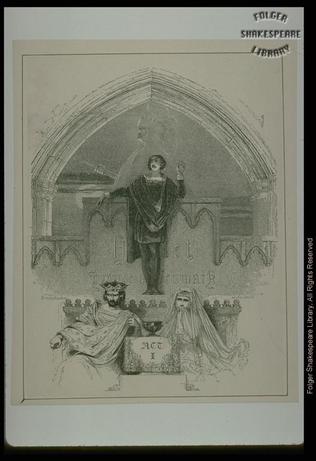 (Click on image to get enlarged view.)

Description: At centre is what looks like a tomb with a pointed arch above it. Hamlet stands with his back to the tomb, leaning upon it, his right arm outstretched along its top, his left raised from the elbow. His look is mournful. Looming up behind Hamlet and as though rising from the tomb is the Ghost who is shown in profile. He wears armour with the visor up and carries a truncheon. Upon the side of the tomb-like structure is inscribed 'Hamlet Prince of Denmark.' At the foot of the page sits Claudius (on the left) and Gertrude (on the right). Claudius grips the arm of his chair with his right hand and glowers forward. Gertrude holds part of her veil up to her mouth as if weeping, and with her right hand she reaches across and holds Claudius's hand. Between them is the inscription 'Act I.' This design is very similar (especially regarding the figures of the Ghost, Claudius and Hamlet) to another such title-page showing the tomb of Hamlet's father.

Folger Act/Sc/L: n/a
Arden Act/Sc/L: n/a
TLN: n/a

Artist: Smith, Orrin
Artist (Original work): Meadows, Kenny
Date: 1843
Date (Original work):
Medium: Engraving (wood) (signed)
Size: 17.8 x 13.7 cms; 7 x 5 3/8 in
Actor:
Production:

Location: FSL. Art File S528h1 no. 98. FSL. PR2752 1843al Sh. Coll. THE WORKS OF SHAKSPERE, introd. by Barry Cornwall (London: Tyas, 1843), p. 143 - Frontispiece for Act I; BL 841.k.21-23.