Image 3 of 8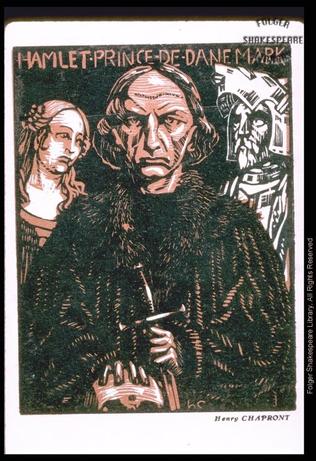 (Click on image to get enlarged view.)

Description: At centre, three-quarter length, facing viewer is Hamlet, an older, slightly balding man who holds his sword and a crown in front of him. Behind on the left is the face of a sad-looking woman with long hair (Ophelia) and on the right is the head of the Ghost wearing a helmet with the visor raised.

Folger Act/Sc/L: n/a
Arden Act/Sc/L: n/a
TLN: n/a

Artist: Chapront, Henry
Artist (Original work): Chapront, Henry
Date: n.d.
Date (Original work):
Medium: Wood block (in brown, black, and white). Signed 'H.C.'
Size: 12.4 x 8.3 cms; 4 7/8 x 3 11/16 in (18.3 x 13.5 cms full pg.
Actor:
Production:

Location: FSL. Art File S528h1 no. 127.