Image 6 of 6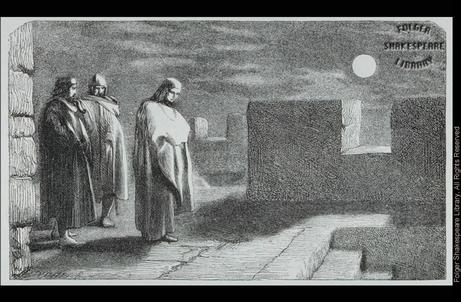 (Click on image to get enlarged view.)

Description: The platform before the castle. At left, wrapped in their long cloaks are Horatio and Marcellus. To left of centre, head bent down, and also wrapped in his long cloak is Hamlet. At right rear is full moon.

Folger Act/Sc/L: 1.4.5
Arden Act/Sc/L: 1.4.4
TLN: 609.00

Artist: Dalziel Bros.
Artist (Original work): Gilbert, John
Date: 1860
Date (Original work):
Medium: Engraving (wood) (signed)
Size: 7.3 x 12.3 cms; 2 7/8 x 4 7/8 in
Actor:
Production:

Location: FSL. PR2752 1858-1860 c.1 Sh. Col. v.3. THE PLAYS OF WILLIAM SHAKESPEARE, ed. Howard Staunton, Vol. 3 (London: Routledge, Warne & Routledge, 1860), 341; FSL. PR2798 S8 A1 v.3 Sh. Coll. (Lund: Gleerup, 1880), p. 69.