Image 4 of 33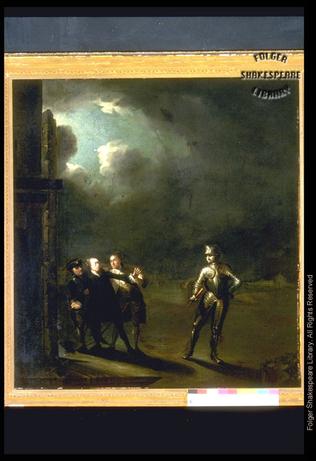 (Click on image to get enlarged view.)

Description: WILLIAM POWELL AS HAMLET ENCOUNTERING THE GHOST (at one time thought to be Garrick as Hamlet). Hamlet at left foreground, his face lit by moonlight, recoils from the Ghost who stands in the right foreground. Hamlet is accompanied by Marcellus and Horatio and the group have just emerged from a drawbridge (see Gravelot's earlier engraving). Hamlet wears black. He is supported by Marcellus, who is dressed in military garb and stands on Hamlet's right (viewer's left). Horatio stands to his left (viewer's right). Whereas Hamlet stares at the Ghost, Horatio and Marcellus look at Hamlet. The Ghost is in armour and is in the act of turning as if about to beckon Hamlet . Behind, though difficult to make out, there appears to be water and a ship.

Folger Act/Sc/L: 1.4.43
Arden Act/Sc/L: 1.4.39
TLN: 624.00

Artist: Wilson, Benjamin
Artist (Original work): Wilson, Benjamin
Date: 1768-69
Date (Original work):
Medium: Oil on canvas
Size: 126.4 x 116 cms; 49 1/2 x 45 5/8 in
Actor: Powell, William
Production:

Location: FSL. Painting a88.