Image 5 of 33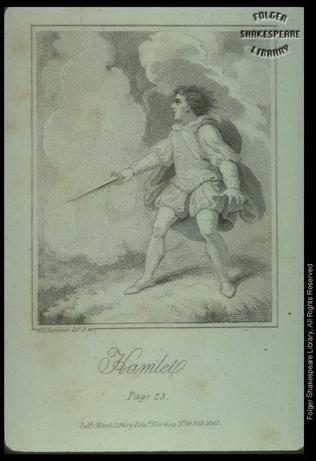 (Click on image to get enlarged view.)

Description: Hamlet in doublet, trunk hose stands with parted legs and drawn sword facing to the left where presumably he has just seen the Ghost. The setting is not really defined as clouds seem to be swirling behind him. His hair streams back from his head and his eyes are staring. He wears doublet and trunk hose and a short cape.

Folger Act/Sc/L: 1.4.43
Arden Act/Sc/L: 1.4.39
TLN: 624.00

Artist: Gardiner, William Nelson
Artist (Original work): Gardiner, William Nelson
Date: 1798
Date (Original work):
Medium: Engraving (stipple) (signed)
Size: 8.8 x 7.1 cms; 3 1/2 x 2 3/4 in (17.5 x 11.2 cms - full pl)
Actor:
Production:
Location: FSL. Art File S528h1 no. 4. From THE PLAYS OF WILLIAM SHAKESPEARE (1798-1800), 12 vols.