Image 1 of 33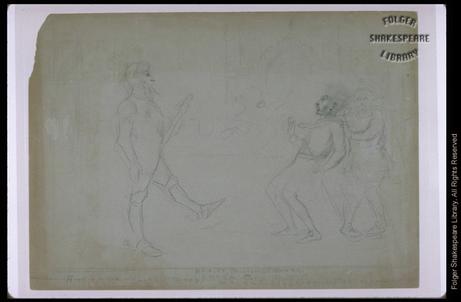 (Click on image to get enlarged view.)

Description: Quotation at foot: 'Look, my lord, it comes!' Rough pencil caricature. Ghost at left, side on to viewer, facing right. He seems to be doing something akin to the 'goose-step' and his left leg is well off the ground. He wears armour and a plumed helmet. He carries a truncheon in his left hand, which he rests on his left hip. To the right is Hamlet starting back in horror. He is side on to the viewer, facing left. His hair is standing on end and his right arm is partly extended, the palm of his right hand raised towards the Ghost. Behind him stands Horatio, knock-kneed and with toes turned in. His left hand is upon Hamlet's shoulder. At centre background, barely discernible, are the battlements and a castle gate. Before the castle gate is a figure with arms raised in horror (Marcellus?).

Folger Act/Sc/L: 1.4.42
Arden Act/Sc/L: 1.4.38
TLN: 623.00

Artist: Anonymous
Artist (Original work): Anonymous
Date:
Date (Original work):
Medium: Pencil
Size: 23.3 x 35.5 cms; 9 1/8 x 14 in (25.3 x 35.5 cms full sheet)
Actor:
Production:

Location: FSL. Art Box S528h1 no. 2.