Image 2 of 33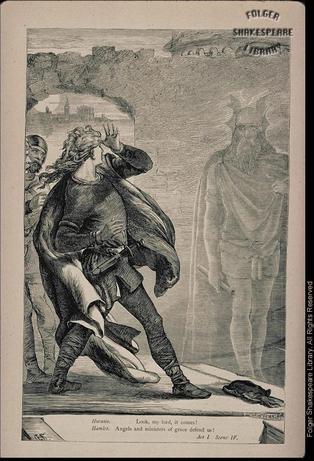 (Click on image to get enlarged view.)

Description: Hamlet at centre, legs wide apart, to right, facing right, weight back on rear (left) foot, leaning back, his left arm across his face, his right arm slightly extended away from his body. He wears dark tunic and cloak. Before him on the ground at right is his hat. The Ghost at right, a near transparent figure in a winged helmet, forward, facing slightly left towards Hamlet. He holds his truncheon in his right hand which is at his side. His left arm is raised chest high, and he appears to be pointing at Hamlet with his index finger. Horatio and Marcellus stand behind Hamlet and are partially visible at the extreme left. They stare intently at the ghost. Behind is a wall. An archway through it permits a view of distant buildings and the full moon. Quotation at foot beings: 'Look, my lord, it comes!' etc.

Folger Act/Sc/L: 1.4.42
Arden Act/Sc/L: 1.4.38
TLN: 623.00

Artist: Wentworth, F[rederick]
Artist (Original work): Selous, Henry Courtney
Date: 1868 ?
Date (Original work): 1864-1868
Medium: Engraving (wood) (signed)
Size: 21.8 x 14.2 cms; 8 5/8 x 5 5/8 in
Actor:
Production:

Location: FSL. PR2755C6 C1a Tragedies Sh. Coll. THE PLAYS OF SHAKESPEARE, edited by Charles and Mary Cowden Clarke (London: Cassell, Petter & Galpin, [1868]), Vol. III, 388; FSL. PR2796 F6 1867-1870 v.3 Sh. Coll. (p. 485).