Image 17 of 33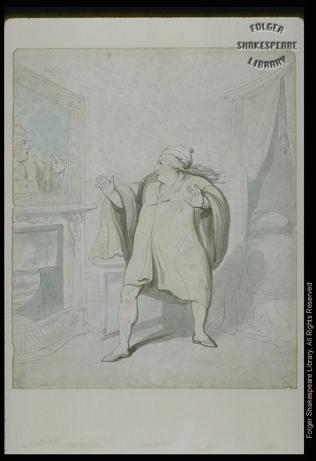 (Click on image to get enlarged view.)

Description: At centre David Garrick (or possibly John Bannister) in night shirt and high cap. Around his shoulder and arms, a cape or blanket. His legs are wide apart, his body to the viewer but his head turned to the left so as to view himself in a mirror above a fireplace at left. Behind him on the right is the bed out of which he has just come. His arms are extended, his palms raised. He is practising the familiar 'start', used in theatrical representations when Hamlet first sees the Ghost.

Folger Act/Sc/L: 1.4.43
Arden Act/Sc/L: 1.4.39
TLN: 624.00

Artist: Rowlandson, Thomas
Artist (Original work): Rowlandson, Thomas
Date: n.d.
Date (Original work):
Medium: Ink and wash (partially coloured) (unsigned)
Size: 24.2 x 20.1 cms; 9 1/2 x 8 in
Actor: Garrick, David
Production:

Location: FSL. Art Box R883 no. 5.