Image 18 of 33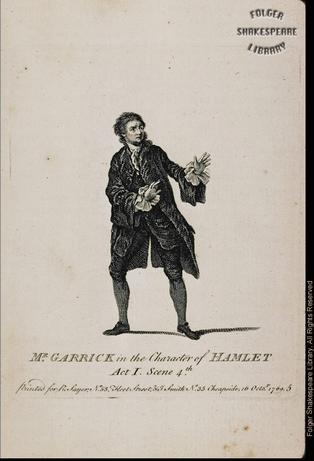 (Click on image to get enlarged view.)

Description: Based on Wilson/McArdell painting/mezzotint. David Garrick (1717-79) as Hamlet at Theatre Royal, Drury Lane (he first played Hamlet in 1742) in 1754. Hamlet, three-quarter length, standing and looking to right, recoiling from his first sight of the Ghost. Both hands, fingers extended (palms to front), are raised in astonishment in front of him. He is hatless and stands in the traditional pose with feet wide apart, the weight of the body on the rear foot as if he is starting back from the terrible sight in front of him. He wears black contemporary clothes (Garrick continued throughout his career to appear in contemporary clothes, as was the custom. See, HAMLET THROUGH THE AGES, p. 23). Missing from the engraving are the details of the wall of the fortress and some ships in the background.

Folger Act/Sc/L: 1.4.43
Arden Act/Sc/L: 1.4.39
TLN: 624.00

Artist: Anonymous
Artist (Original work): Anonymous
Date: 1769
Date (Original work):
Medium: Engraving (unsigned but dated)
Size: 6 x 4.5 cms; 2 1/2 x 1 3/4 in (9.5 x 7.8 cms - full plate)
Actor:
Production:

Location: FSL. PR2755 K7 A2 copy 4 vol. 9 Sh. Coll. Extra-illustrated THE PICTORIAL EDITION OF THE WORK OF SHAKSPERE, ed. Charles Knight (London: Knight, n.d.), opp. p. 112. Printed for R. Sayer (Fleet Street) and J. Smith (Cheapside) 16 October 1769.