Image 32 of 33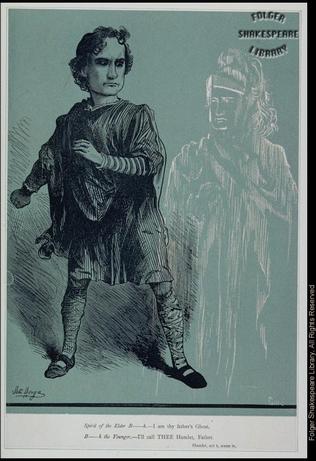 (Click on image to get enlarged view.)

Description: Caricature of Edwin Booth (1833-1893) as Hamlet with Ghost representing Junius Brutus Booth (1796-1852). Edwin Booth at left, full length, standing, forward, facing slightly to right, his right arm extended behind him, his left arm across his front as though recoiling from the figure of the Ghost at right. He wears knee-length tunic and cross garters. The Ghost at right is spectral figure in plumed helmet, forward, facing slightly to left. the caption below reads: SPIRIT OF THE ELDER B---H. --I am thy father's Ghost. / B---H THE YOUNGER. --I'll call THEE Hamlet, Father.'

Folger Act/Sc/L: 1.4.50
Arden Act/Sc/L: 1.4.45
TLN: 630.00

Artist: Gilbert (?) indecipherable
Artist (Original work): Morgan, Matthew Somerville
Date: 1875
Date (Original work):
Medium: Woodcut on blue ground
Size: 25 x 18cms; 9 3/4 x 7 1/8 in
Actor: Booth, Edwin
Production:

Location: FSL. Art Vol. b1 no. 146; HTC (Booth, Edwin, no. 50). Plate to NEW YORK DRAMATIC NEWS, October 1875.