Image 30 of 33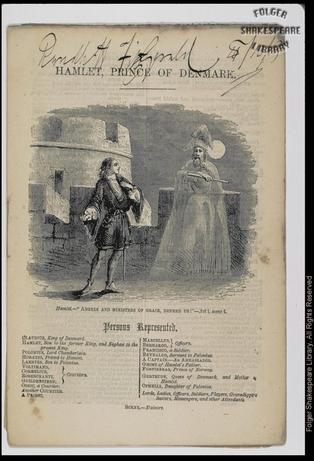 (Click on image to get enlarged view.)

Description: Upon the platform with castellated wall at rear. Hamlet at left, standing, very slightly to right, facing right in profile. Right hand slightly extended to left, left hand upon his chest, he stares at Ghost at right. He wears tunic. Semi-transparent form of ghost at right, in armour, plumed helmet with visor up, standing, forward, facing slightly left to Hamlet. With his truncheon in his right hand, he points across his body to the right. Behind his head is full moon. Below is quotation: 'Angels and minister of grace, defend us!'

Folger Act/Sc/L: 1.4.43
Arden Act/Sc/L: 1.4.39
TLN: 624.00

Artist: R., C. ?
Artist (Original work): R., C. ?
Date: 1883 ?
Date (Original work):
Medium: Engraving (wood) (signed 'C.R.' ? - difficult to decipher)
Size: 8.8 x 10.2 cms; 3 3/8 x 4 in (18.5 x 12.5 full page)
Actor:
Production:

Location: FSL. PR2807 A397 Sh. Coll. HAMLET. Dick's Standard Plays (London: Dicks, [1883]), title-page.