Image 29 of 33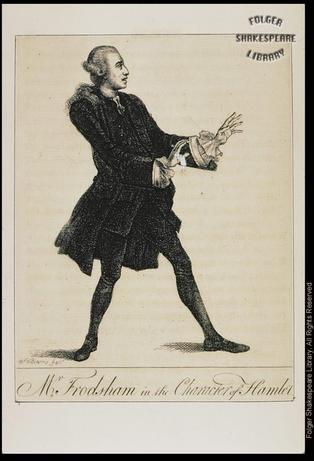 (Click on image to get enlarged view.)

Description: Portrait of Mr. Frodsham (1771-1791 fl) as Hamlet. Full length, standing, to right, facing right in profile, legs wide apart, weight back on right leg at left, both arms extended to right, palms to front, at waist height. He wears contemporary eighteenth-century dress (wig, coat, breeches, etc.). Beneath is caption: 'Mr. Frodsham in the Character of Hamlet.'

Folger Act/Sc/L: 1.4.43
Arden Act/Sc/L: 1.4.39
TLN: 624.00

Artist: Williams, W[illiam?]
Artist (Original work): Anonymous (not decipherable)
Date: 1771 ?
Date (Original work): 1771
Medium: Engraving (signed and dated. Signature of designer not legible)
Size: 19 x 16 cms; 7 1/2 x 6 3/8 in
Actor: Frodsham
Production:

Location: FSL. PR2752 1807c c.4 v.2 Sh. Coll. THE PLAYS OF WILLIAM SHAKSPEARE. FROM THE CORRECTED TEXT OF JOHNSON AND STEEVENS, 6 vols. (London: Stockdale, 1807), Vol. 2, opp. p. 29.