Image 21 of 33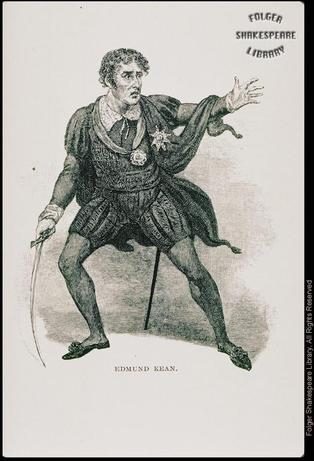 (Click on image to get enlarged view.)

Description: Portrait of Edmund Kean as Hamlet. Moment of Hamlet's 'start'. Feet wide apart, weight back on right leg to rear, left arm extended forward, right hand holding sword with point to ground. He wears dark panelled trunk hose. Around neck is circular object on ribbon (either miniature or chivalric insignia).

Folger Act/Sc/L: 1.4.43
Arden Act/Sc/L: 1.4.39
TLN: 624.00

Artist: Anonymous
Artist (Original work): Anonymous
Date: 1891
Date (Original work): 1820 ?
Medium: Engraving (reproduction of)
Size: 10 x 8 cms; 4 x 3 1/4 in
Actor: Kean, Edmund
Production:

Location: FSL. PN2221 H83 - Laurence Hutton, CURIOSITIES OF THE AMERICAN STAGE (New York: Harper, 1891), p. 259.