Image 20 of 33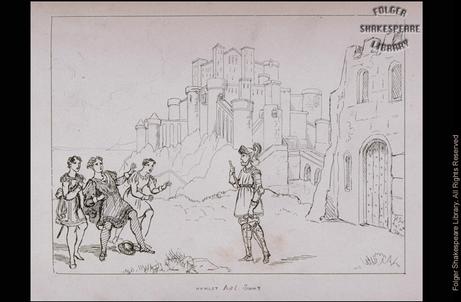 (Click on image to get enlarged view.)

Description: On cliff top before castle (sea in left background, castle at centre rear, and doorway to castle at right), stands the Ghost at centre foreground. He is turned and faces to the left. He wears full plate armour with a plumed helmet, the visor up. In his right hand, he holds his truncheon. In left corner, in foreground, stands Hamlet flanked by Horatio and Marcellus. Hamlet stands facing the Ghost, legs wide apart, weight on rear leg, hands both raised in classic 'start' position. His bonnet has fallen to the ground between his legs. He wears knee-length tunic and cape. Around his neck on a ribbon hangs a chivalric order.

Folger Act/Sc/L: 1.4.43
Arden Act/Sc/L: 1.4.39
TLN: 624.00

Artist: Scharf, George
Artist (Original work): Scharf, George
Date: 1839
Date (Original work): 1838-1839
Medium: Engraving (line). Unsigned and undated
Size: 12.5 x 17 cms; 4 7/8 x 6 5/8 in
Actor: Macready, William Charles
Production: Covent Garden (Macready), 1838

Location: FSL. Art Vol. e44 Copy 1 (unnumbered). George Scharf, RECOLLECTIONS OF THE SCENIC EFFECTS OF COVENT GARDEN THEATRE DURING THE SEASON 1838-9 (London: James Pattie, 1839).