Image 23 of 33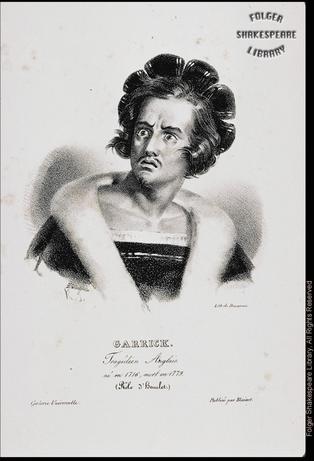 (Click on image to get enlarged view.)

Description: Portrait of David Garrick as Hamlet. Bust length, forward, facing slightly left. His eyes are wide and staring as though in horror. His hair (wig?) appears to be standing up at rear. Possibly this illustrates the special wig that Garrick's wigmaker claims to have made and which could be made to 'stand up' to express Hamlet's emotions when he encountered the Ghost. Caption: 'Garrick. tragedien Anglais ne en 1716, mort en 1779. (Role d'Hamlet.) Galerie Universelle. publiee par Blaisot.'

Folger Act/Sc/L: 1.4.43
Arden Act/Sc/L: 1.4.39
TLN: 624.00

Artist: Ducarme
Artist (Original work): T., R.
Date:
Date (Original work):
Medium: Lithograph (published by Blaisot, Galerie Universelle)
Size: 14 x 13 cms; 5 1/2 x 5 1/4 in (image only) (19.5 x 13 cms w. capts)
Actor: Garrick, David
Production: Paris ?

Location: FSL. Art File G241 no. 64.