Image 24 of 33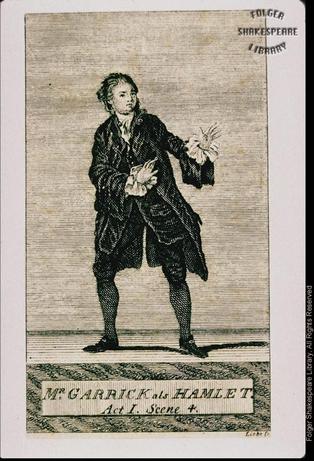 (Click on image to get enlarged view.)

Description: Portrait of David Garrick as Hamlet in classic position of 'start'. Full length, standing, forward, legs apart, facing slightly right, both arms extended forward, palms forward. He wears contemporary dress with tail coat, jacket and knee breeches. Below is caption: 'Mr. Garrick als Hamlet. Act I. Scene 4.'

Folger Act/Sc/L: 1.4.43
Arden Act/Sc/L: 1.4.39
TLN: 624.00

Artist: Liebe
Artist (Original work): Anonymous
Date:
Date (Original work):
Medium: Engraving (signed but undated)
Size: 9 x 5 cms; 3 1/2 x 2 in
Actor: Garrick, David
Production:

Location: FSL. Art File G241 no. 53.