Image 16 of 32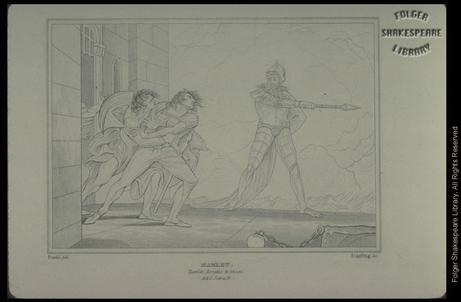 (Click on image to get enlarged view.)

Description: To the right on the battlements stands the Ghost in armour with visor up. His legs are spread apart and he looks down at Hamlet to the left. With his right arm swung across his body he points off right with his baton as though ordering Hamlet to move in that direction. To the left Hamlet leans forward staring up to the Ghost's face. Horatio has his arms around Hamlet attempting to prevent him from following the Ghost. A third figure, only partially visible, stands further off to the left gesticulating. In the background are the rough waves of the sea. The Ghost's head is backlit by the full moon.

Folger Act/Sc/L: 1.4.94
Arden Act/Sc/L: 1.4.84
TLN: 671.00

Artist: Starling, William Francis
Artist (Original work): Fuseli, Henry
Date: 1833 ?
Date (Original work):
Medium: Engraving
Size: 7 x 10.2 cms; 2 3/4 x 4 in (18.8 x 25.5 cms - full page)
Actor:
Production:

Location: FSL. Art File S528h1 no. 2. FSL has another engraving (FSL. Art File S528h1 no. 129 pt. 2); FSL. PR2752 1832-34 c.1 v.14 Sh Coll. p. 38; FSL. PR2752 1876-77a c.1.