Image 15 of 32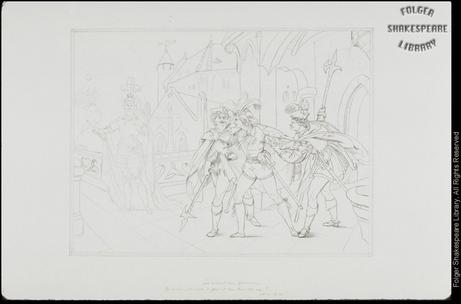 (Click on image to get enlarged view.)

Description: 'Unhand me, gentlemen.' On battlements before large stone door to right. At left, figure of Ghost, virtually transparent and holding a truncheon in his right hand, beckons Hamlet. Hamlet, attempting to move in the direction of Ghost, is restrained by Horatio and Marcellus at centre. The Ghost wears armour and a long cape. He has on a plumed helmet with the visor up.

Folger Act/Sc/L: 1.4.94
Arden Act/Sc/L: 1.4.84
TLN: 671.00

Artist: Anderson, William M.
Artist (Original work): Retzsch, Frederick August Moritz
Date: 1848
Date (Original work): 1827
Medium: Pencil drawing (signed 'W.M.A.' but undated)
Size: 17 x 22.3 cms; 6 3/4 x 8 3/4
Actor:
Production:

Location: FSL. Art Box A552 no. 2.