Image 6 of 32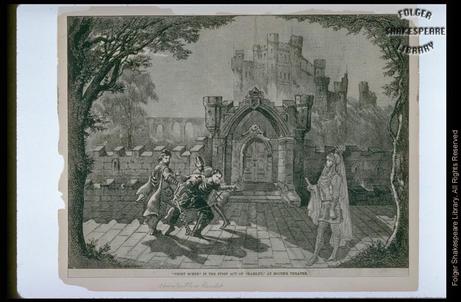 (Click on image to get enlarged view.)

Description: Title at foot: ''Ghost Scene' in the First Act of 'Hamlet,' at Booth's Theatre.' Edwin Booth as Hamlet at Booth's Theatre. Against a backdrop of the castle and the castle walls, the central focus of which is a large gate at centre, is Hamlet's attempt to follow the Ghost. To left of centre, straining forward, is Hamlet. His legs are wide apart and his left arm is extended to the right in front of him towards the Ghost, his left forefinger pointing at the Ghost. In his right hand he carries his drawn sword, the point to the ground. He wears a short tunic and short cloak. Behind him, Marcellus (in chain mail and helmet) and Horatio (in tunic, cloak and hat) attempt to restrain Hamlet. Horatio has his right arm on Hamlet's right arm, and Marcellus holds Hamlet's left arm with his left hand. To the right, side on to the viewer and facing left, stands the Ghost. He wears chain mail and a helmet with the visor up. Suspended from his helmet is a long, light-toned train, perhaps an almost transparent material meant to convey the sense of the Ghost's non-materiality. To right and left of the scene in the foreground are trees that arch over the top of the scene, suggestive of a stage setting. The scene is backlit from upper left by the moon which is obscured behind

Folger Act/Sc/L: 1.4.87
Arden Act/Sc/L: 1.4.78
TLN: 664.00

Artist: Grey-Parker
Artist (Original work): Grey-Parker
Date: n.d.
Date (Original work):
Medium: Engraving (signed)
Size: 22 x 28.7 cms; 8 3/4 x 11 1/4 in (24 x 30.3 cms - full sheet)
Actor: Booth, Edwin
Production: Booth's Theatre

Location: FSL. Art File B725.4 no. 103.