Image 5 of 32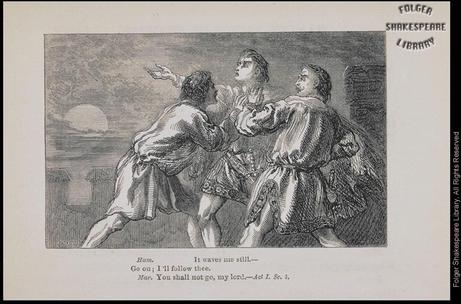 (Click on image to get enlarged view.)

Description: Three men upon platform of castle, the full moon low on horizon at left. At centre is Hamlet, legs wide apart, staring to left, his right arm extended to left where (presumably) the Ghost is. At left, facing Hamlet is man in plain tunic (Marcellus?) who faces right and seems to be remonstrating with Hamlet. At right, starting back is third figure in embroidered tunic (Horatio?), who stares like Hamlet to left. Immediately below is the quotation: 'HAM. It waves me still.- / Go on; I'll follow thee. MAR. You shall not go, my lord.'

Folger Act/Sc/L: 1.4.82
Arden Act/Sc/L: 1.4.74
TLN: 663.00

Artist: Halswelle, Keeley
Artist (Original work): Halswelle, Keeley
Date: 1862
Date (Original work):
Medium: Engraving (wood) (signed but undated)
Size: 5.1 x 8.2 cms; 2 1/16 x 3 1/4 in
Actor:
Production:

Location: FSL. PR2752 1861-1863 copy 1, Vol. 7 Sh. Coll. CHAMBERS'S HOUSEHOLD EDITION OF THE DRAMATIC WORKS OF WILLIAM SHAKESPEARE, ed. R. Carruthers & W. Chambers. Illustrated by Keeley Halswelle, Vol. 7 (London & Edinburgh: W. & R. Chambers, 1862), p. 9.