Image 28 of 32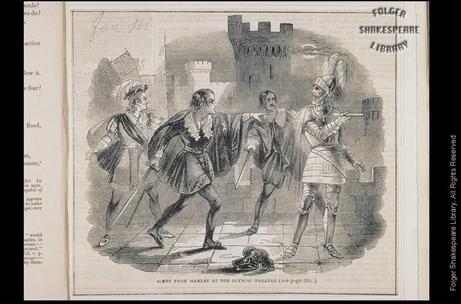 (Click on image to get enlarged view.)

Description: Upon the platform to left of centre stands Hamlet, facing right with right foot in front as though in movement to right. His left hand and arm are extended horizontally in front of him and pointing to Ghost at right. In his left hand he holds his drawn sword, which points to ground behind him. He is bare-headed, wears thigh-length tunic, has broad lace collar and wears around his neck both a cross and a star-shaped insignia. There is another star-shaped insignia on his cloak on the left shoulder. Before him on the ground in foreground at centre is his plumed hat. At right stands Ghost in armour, with plumed helmet and visor up. Though looking back at Hamlet, his body is turning to the right, and he points to right with his truncheon as if inviting Hamlet to follow. Between Hamlet and Ghost at rear stands a figure in puffed breeches with his sword drawn (Marcellus?). At left of picture behind Hamlet stands figure in tunic and plumed hat (Horatio?). The towers of the castle can be seen at rear, and there is a partially-obscured full moon to right of centre which back-lights the scene. Below the picture is an inscription: 'Scene from Hamlet at the Olympic Theatre (see page 334).'

Folger Act/Sc/L: 1.4.95
Arden Act/Sc/L: 1.4.85
TLN: 672.00

Artist: Anonymous
Artist (Original work): Anonymous
Date:
Date (Original work):
Medium: Engraving
Size: 13 x 14.8 cms; 5 1/8 x 5 3/4 in
Actor:
Production: Olympic

Location: FSL. PR2755 K7 A2 Copy 5 v.5 Sh. Coll. From extra-illustrated THE PICTORIAL EDITION OF THE WORKS OF SHAKSPERE, edited by Charles Knight (London: Charles Knight, nd), after p. 110.