Image 29 of 32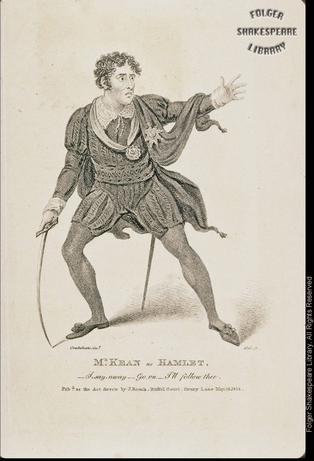 (Click on image to get enlarged view.)

Description: Portrait of Edmund Kean (1787-1833) as Hamlet at Theatre Royal, Drury Lane, in 1814. Whole length, standing, legs apart, forward, facing right, weight on his right leg as if he is starting back. Similar to cartoon of John Howard Payne as Hamlet. Hamlet in dark doublet, breeches and hose, with distraught-looking face, his left arm outstretched before him, fingers extended and palm to front, in the direction off right in which he is staring. His right hand holds his drawn sword, its point to the ground. He appears to be about to follow the Ghost, regardless of his companions' concerns, but no other figure is visible. He wears a miniature or heraldic order of some kind around his neck and a star insignia to mark his status as prince. His costume is a then fashionable 'theatrical' Elizabethan costume that had superseded the use of contemporary dress. Quotation at bottom states: 'I say, away - Go on - I'll follow thee.' This suggests 14086 but the pose is much more suggestive of 14039 (Hamlet's 'start').

Folger Act/Sc/L: 1.4.96
Arden Act/Sc/L: 1.4.86
TLN: 673.00

Artist: Alais
Artist (Original work): Cruikshank, George
Date: 1814 (16 May)
Date (Original work):
Medium: Engraving (signed and dated)
Size: 10.5 x 8 cms; 4 x 3 1/8 in (14.3 x 9.3 cms. full plate)
Actor: Kean, Edmund
Production: Theatre Royal, Drury Lane, 1814

Location: FSL. Art Vol. b43, no. 210. Published by J. Roach, Drury Lane (16 May 1814).