Image 32 of 32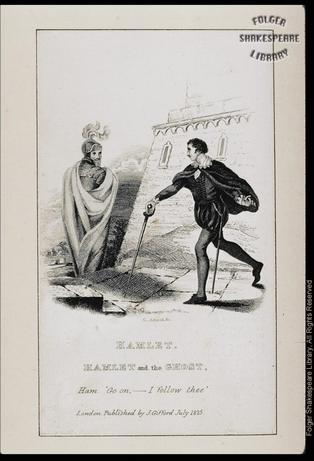 (Click on image to get enlarged view.)

Description: Upon the platform before the castle walls at rear right stands Hamlet. His left foot is advanced to left as though he is moving to left. In his right hand, he holds his sword, the point to the ground in front of him. He wears dark-toned doublet and trunk hose with short cloak. He has elaborate lace collar and cuffs. He has short curly hair and a mustache. At left, as if disappearing below the platform, is the Ghost. He wears armour, a plumed helmet with the visor up and a long cloak. His back is to the viewer, but his face is turned back over his right shoulder towards Hamlet. Below is the inscription: 'Go on, -- I follow thee.'

Folger Act/Sc/L: 1.4.96
Arden Act/Sc/L: 1.4.86
TLN: 673.00

Artist: Adcock, G.
Artist (Original work): Anonymous
Date: 1825 (July)
Date (Original work):
Medium: Engraving (signed and dated) Published J. Gifford July 1825
Size: 8 x 7.5 cms; 3 x 2 3/4 in (Irregular).
Actor:
Production:

Location: FSL. PR2755 K7 A2 copy 4 vol. 9 Sh. Coll. Extra-illustrated THE PICTORIAL EDITION OF THE WORK OF SHAKSPERE, ed. Charles Knight (London: Knight, n.d.), opp. p. 111.