Image 31 of 32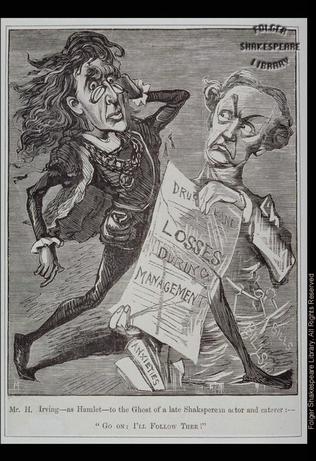 (Click on image to get enlarged view.)

Description: Caricature of Henry Irving (1838-1905) as bespectacled Hamlet. Whole length, to right, walking, legs wide apart, striding to right. He is confronted by 'Ghost of a late Shaksperean actor and caterer' at right who holds up a large sheet of paper upon which is written 'Drury Lane / Losses During Management.' Quotation at base reades: 'Go on: I'll follow thee!'

Folger Act/Sc/L: 1.4.96
Arden Act/Sc/L: 1.4.86
TLN: 673.00

Artist: M.
Artist (Original work):
Date:
Date (Original work):
Medium: Engraving (wood) (signed)
Size: 17 x 13.5 cms; 6 3/4 x 5 3/8 in
Actor: Irving, Henry
Production:

Location: FSL. Art Vol. a8 no. 49. From extra-illustrated ed. of William Winter, HENRY IRVING (New York: Coombes, 1885). (opp. p. 93). HTC (Irving, Henry, no. 172).