Image 1 of 32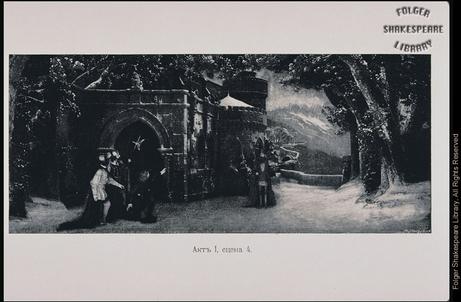 (Click on image to get enlarged view.)

Description: The platform before the castle. An elaborate stage setting, with the walls of the castle at left, including a large arched doorway. In the distance at centre can be seen snow-capped mountains. At right are trees that arch left over the setting. At centre stands the Ghost in armour with visor up. In his right hand he holds what is probably intended to represent a sceptre, although it has somewhat of the shape of a sword. His left arm is extended towards the right and points towards the edge of the platform. He is looking to the left where Hamlet kneels, his hat on the ground in front of him. Hamlet's left arm is extended to the right towards the Ghost. Behind Hamlet at left stand Marcellus with a pike and Horatio. All three figures stare across at the Ghost.

Folger Act/Sc/L: 1.4.63
Arden Act/Sc/L: 1.4.58
TLN: 644.00

Artist: Schuler, A.
Artist (Original work): Schuler, A.
Date: 1900
Date (Original work):
Medium: Photograph (signed 'A. Schuler')
Size:
Actor:
Production: St. Petersburg (Russia), Imperial Hermitage Theatre, 17 Feb 1900.

Location: FSL. Art Vol. f27, fol. 31.