Image 41 of 42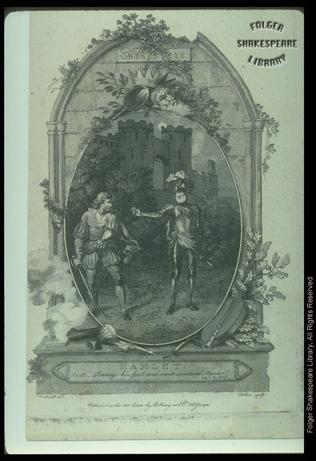 (Click on image to get enlarged view.)

Description: Quotation at foot: 'Revenge his foul and most unnatural Murder!' Somewhat similar to FSL. S528H1 no. 9. Hamlet stands to left wearing doublet, breeches and hose, and short cloak. He holds a drawn sword, the tip of which touches the ground, and looks to his left over his shoulder at the Ghost at right whose arm is stretched towards him as though issuing his dreadful command. The Ghost wears armour, his visor up, and he carries a truncheon in his left hand. Behind at some distance can be seen Horatio and Marcellus and beyond them the massive stone gate of the castle back-lit by moonlight. The picture is framed by a wall with ivy and various objects related to the play (e.g. a cup, a sword, a recorder, a crown, etc.).

Folger Act/Sc/L: 1.5.31
Arden Act/Sc/L: 1.5.25
TLN: 710.00

Artist: Walker
Artist (Original work): Corbould, Richard
Date: 1788 (1 Feb.)
Date (Original work):
Medium: Engraving (signed and dated)
Size: 10 x 7.5 cms; 3 7/8 x 3 in (w.out border) (18 x 11.5 full plate)
Actor:
Production:

Location:FSL. Art File S528h1 no. 10. Published by Bellamy & Co. in THE PLAYS OF WILLIAM SHAKESPEARE (1788), Vol. 8. BL has edition of 1796 (11761.d.).