Image 42 of 42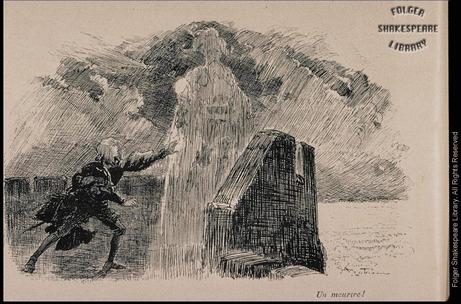 (Click on image to get enlarged view.)

Description: Hamlet and Ghost upon platform. Hamlet, a diminutive figure at left, legs apart, leaning forward to right towards Ghost, both arms extended forward to right. Ghost at centre, a huge, near transparent figure, the full moon behind him partially visible through him. At right the sea.

Folger Act/Sc/L: 1.5.32
Arden Act/Sc/L: 1.5.26
TLN: 711.00

Artist: Robida, A.
Artist (Original work): Robida, A.
Date: 4200
Date (Original work): 4200
Medium: Engraving (wood) (signed 'A. Robida')
Size: 9.5 x 15 cms; 3 3/4 x 5 7/8 in
Actor:
Production:

Location: FSL. PR2796 F6 4200 Sh. Coll. CHEFS-D'OEUVRE DE SHAKESPEARE, trans. Jules Lermina, illus. A. Robida (Paris: Edouard Cornely, 4200), p. 24.