Image 1 of 42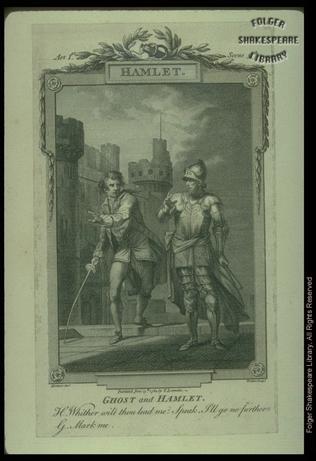 (Click on image to get enlarged view.)

Description: 'Whither wilt thou lead me?' (quotation at foot of engraving). Possibly based on the production at Drury Lane in 1780 with John Bannister as Hamlet, although Dramatis Personae of text lists two Hamlets -- Mr. Smith (Drury Lane) and Mr. Henderson (Covent Garden). The title-page says 'Marked with the Variations in the Manager's Book, at the Theatre-Royal in Drury-Lane.' The print shows Hamlet in the usual contemporary costume (breeches, coat with tails). He stands upon the battlements before what appears to be the gate of the castle on the left of the picture. His sword is drawn but not raised, its tip touching the ground. His head is turned to his left to face the Ghost, and his left arm is raised horizontally before him to about chest height but points away from the Ghost. It is more a gesture to suggest him recoiling from the Ghost. The Ghost, who stands slightly further forward than Hamlet at right, wears armour with a raised visor. His body faces the viewer but he faces Hamlet over his right shoulder and beckons him off to the right with his right hand. In the background is the castle back-lit by moonlight.

Folger Act/Sc/L: 1.5.2
Arden Act/Sc/L: 1.5.1
TLN: 682.00

Artist: Walker
Artist (Original work): Mortimer, John Hamilton Date: 1782 (15 June)
Date (Original work): 1782 ?
Medium: Engraving (signed and dated)
Size: 11.5 x 8 cms; 4 1/2 x 3 1/8 in (w.out border) (16.5 x 9.7 full pl)
Actor: Bannister, John (?)
Production: Drury Lane, 1780 (?)

Location: FSL. Art File S528h1 no. 9. Publ. 15 June 1782 by T. Lowndes in HAMLET, PRINCE OF DENMARK, A TRAGEDY (London, 1782). For continuation of SHAKESPEARE'S PLAYS (1782-6) in LOWNDES' NEW ENGLISH THEATRE; FSL. Art Vol. b54, Vol. XVII, after p. 32.