Image 2 of 42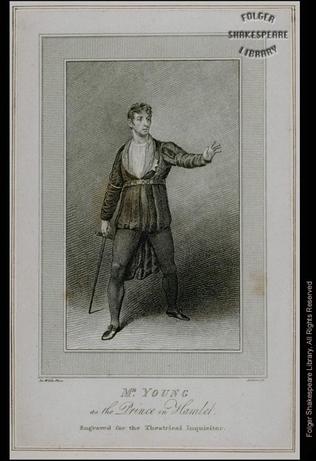 (Click on image to get enlarged view.)

Description: Charles Mayne Young in his debut as Hamlet at Haymarket Theatre in 1807. Full length, forward, facing slightly to right. Legs wide apart. He holds his sword in his right hand at his side, point to ground. His left arm is extended to the right, palm forward. This would appear to be a version of Hamlet's 'start'. He wears what appear to be trunk hose, an open doublet, white shirt and three-quarter length cape. There is a star-shaped insignia partially visible on his left breast. The quotation at the foot 'Whither wilt thou lead me?' suggests that the stance is intended to signify to the Ghost that he will go no further.

Folger Act/Sc/L: 1.5.2
Arden Act/Sc/L: 1.5.1
TLN: 682.00

Artist: Scriven, Edward
Artist (Original work): De Wilde, Samuel
Date: 1813 (1 May)
Date (Original work): 1807-1808
Medium: Engraving
Size: 12.5 x 7.5 cms; 5 x 3 in (plus additional engraved frame)
Actor: Young, Charles
Production: Haymarket Theatre, 1807

Location: FSL. Art Vol. b63 unnumbered. (engraved for the Theatrical Inquisitor). From extra-illustrated copy of THE PICTORIAL EDITION OF SHAKSPERE (London: Charles Knight, 1839), Pt. X (HAMLET); FSL. Art Vol. a12 no. 9; FSL. Art Vol. b54, Vol. XVII, opp. p. 14.