Image 10 of 42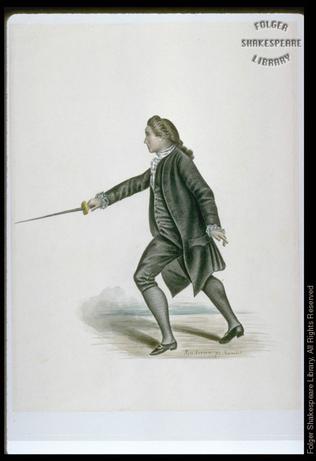 (Click on image to get enlarged view.)

Description: Portrait of John Henderson (1747-85) as Hamlet. Whole length, to left, standing, right arm extended, holding sword almost horizontally. He wears contemporary eighteenth-century dress (black frock coat, knee-length black breeches, black stockings) and a wig. He appears to be walking (his left foot is in front of the right and the heel of the right is lifted as though he is stepping forward) towards the left, presumably in the direction that the Ghost is leading him.

Folger Act/Sc/L: 1.5.2
Arden Act/Sc/L: 1.5.1
TLN: 682.00

Artist: Moblard, Victor
Artist (Original work): Anonymous
Date:
Date (Original work): 1779
Medium: Watercolour (unsigned but dated)
Size: 23 x 24 cms; 9 x 9 1/2 in (36.8 x 27.3 cms - full sheet)
Actor: Henderson, John
Production:

Location: FSL. Art Box M785 no. 4.