Image 9 of 42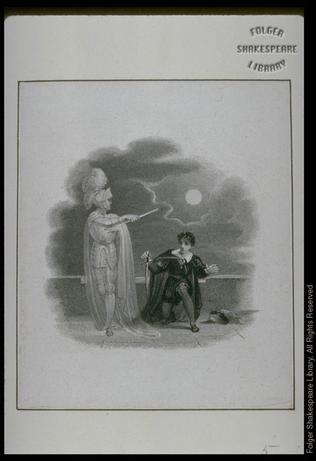 (Click on image to get enlarged view.)

Description: To left stands Ghost in armour with plumed helmet, the visor up. His body is forward, but his head is turned in profile to right. He holds a truncheon in his left hand which is extended across his body to the right. Hamlet, in doublet and breeches, kneels on one knee at feet of Ghost. He leans on his drawn sword with his right hand. The point of the sword is on the ground. His left hand is extended in a gesture of fright. The scene is set on the platform and is backlit by a full moon. Hamlet's hat is on the ground on the right side of the picture (to Hamlet's left).

Folger Act/Sc/L: 1.5.2
Arden Act/Sc/L: 1.5.1
TLN: 682.00

Artist: Anonymous
Artist (Original work): Anonymous
Date:
Date (Original work):
Medium: Engraving (unsigned and undated)
Size: 5.3 x 5.5 cms; 2 1/8 x 2 3/16 in (21.5 x 13.5 cms - full pg)
Actor:
Production:

Location: FSL. Art Vol. a34 (Vol. 17, opp. p. 488).