Image 3 of 42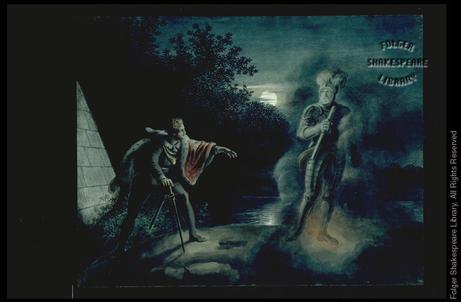 (Click on image to get enlarged view.)

Description: The Ghost and Hamlet. Part of a stone wall at left and foliage and leaves to left and rear. At centre rear is water reflecting the light of the full moon which is at centre. Hamlet stands to the left. His legs are wide apart and his left arm is extended towards the right of the picture where the Ghost stands. With his left hand he leans upon the handle of his drawn sword, the point of which is upon the ground. Hamlet wears a black doublet and breeches and a red ermine-trimmed short cloak, upon which is a star-shaped insignia. Around his neck is a double chain from which is suspended either a miniature or chivalric insignia. The Ghost at right wears armour and a plumed helmet with the visor up. He faces partially to the left towards Hamlet, but his body appears to be moving to the right. He is surrounded by vapour and a red glow suggestive of fire. He carries a truncheon in his right hand.

Folger Act/Sc/L: 1.5.2
Arden Act/Sc/L: 1.5.1
TLN: 682.00

Artist: Ramberg, Johann Heinrich
Artist (Original work): Ramberg, Johann Heinrich
Date: 1829
Date (Original work):
Medium: Watercolour
Size: 38 x 48.7 cms; 15 x 42 1/4 in
Actor:
Production:

Location: FSL. Art Box R167 no. 2.