Image 12 of 42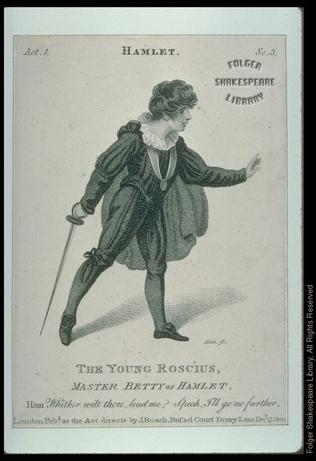 (Click on image to get enlarged view.)

Description: Portrait of the child prodigy actor William Henry Betty (1791-1874) who made a sensational appearance as Hamlet at Covent Garden in 1804. Quotation at foot: 'Whither wilt thou lead me? Speak, I'll go no further.' Full length, legs apart, to right, facing right. His right arm is extended behind him to the left and holds his sword, its point to the ground. His left arm is extended in front of him to the right. He wears doublet, breeches and hose and a short cloak. Around his neck is a ribbon from which is suspended a miniature or chivalric insignia. Title at foot is 'THE YOUNG ROSCIUS.'

Folger Act/Sc/L: 1.5.2
Arden Act/Sc/L: 1.5.1
TLN: 682.00

Artist: Alais
Artist (Original work): Anonymous
Date: 1804 (17 Dec.)
Date (Original work):
Medium: Engraving (stipple) (signed and dated)
Size: 13 x 9 cms; 5 1/16 x 3 9/16 in (22.5 x 14.3 cms full sheet)
Actor: Betty, William Henry
Production: Drury Lane, 1804

Location: FSL. Art File B565.7 no. 6; HTC (Betty, no. 36). Published by J. Roach (London), 17 December 1804.