Image 13 of 42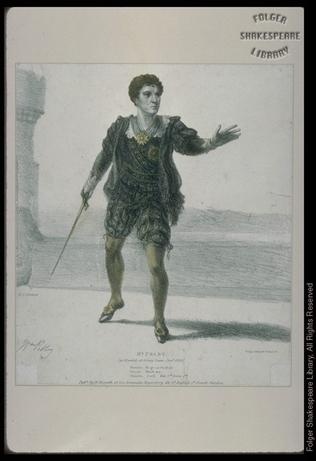 (Click on image to get enlarged view.)

Description: Portrait of William Pelby (1793-1850) as Hamlet. Full length, standing, forward, legs apart, facing slightly right. In his right hand is his sword, held slightly behind him, the point to the ground. His left arm is extended at chest height towards the right. He wears doublet and breeches and very short cloak. He has lace cuffs and collar. His stockings have been tinted yellow. On his left breast is a star-shaped insignia, and there is what appears to be another insignia (somewhat in the shape of a Maltese cross) hanging from a ribbon around his neck. In the background at left is one of the castle towers.

Folger Act/Sc/L: 1.5.2
Arden Act/Sc/L: 1.5.1
TLN: 682.00

Artist: Day, W. (London)
Artist (Original work): Stothard, Robert T.
Date: 1826 (January)
Date (Original work):
Medium: Lithograph by W. Day's Litho. (London)
Size: 24.3 x 20.8 cms; 9 1/2 x 8 3/16 in
Actor: Pelby, William
Production: Drury Lane, January 1826

Location: FSL. Art File P381.4 no. 1. Published by W. Kenneth at his Dramatic Repository (London).