Image 23 of 42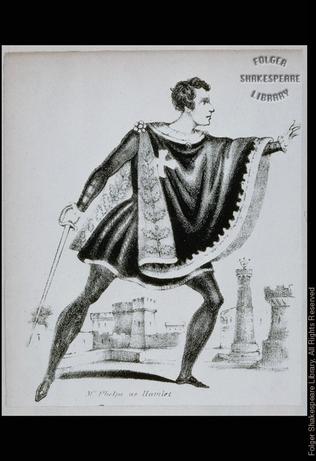 (Click on image to get enlarged view.)

Description: Portrait of Samuel Phelps as Hamlet in style of penny plain prints. Full length, standing, legs wide apart, forward, facing right in profile. In right hand, he holds sword with point to ground behind him. His left arm is extended horizontally to the right, palm forward and fingers extended. His weight is on forward (left) foot as though he has been moving to right but has now stopped. He wears thigh-length tunic and short cape. There is a large cross on the front of his cape. He is bare headed. In the background, glimpsed between his legs, is the castle. Caption reads: 'Mr Phelps as Hamlet.'

Folger Act/Sc/L: 1.5.2
Arden Act/Sc/L: 1.5.1
TLN: 682.00

Artist: Anonymous
Artist (Original work): Anonymous
Date:
Date (Original work):
Medium: Lithograph (?)
Size: 11.5 x 10 cms; 4 1/2 x 3 7/8 in
Actor: Phelps, Samuel
Production:

Location: FSL. PR2807 P65b ex. ill. Henry P. Phelps, HAMLET FROM THE ACTORS' STANDPOINT (New York: Werner, 1890), unnumbered.