Image 22 of 42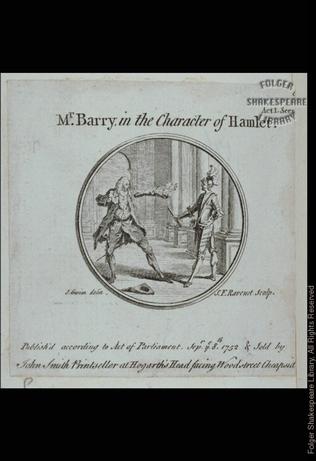 (Click on image to get enlarged view.)

Description: Spranger Barry (1742-1777) as Hamlet at left, full length, standing, forward, facing right. He leans back on his right leg to left. His left arm is extended horizontally to the right towards the Ghost at right (the classic 'start' position). He wears wig, breeches, waistcoat and knee-length coat. His three-cornered hat is on the ground between him and the Ghost. The Ghost at right is in full plate armour, except for the lower part of his legs. He has a plumed helmet with the visor raised and holds a truncheon towards Hamlet.

Folger Act/Sc/L: 1.5.2
Arden Act/Sc/L: 1.5.1
TLN: 682.00

Artist: Ravenet, Simon Francois
Artist (Original work): Gwin (Gwim), James
Date: 1752
Date (Original work):
Medium: Engraving
Size: 4 cms; 1 1/2 in (circular)
Actor: Barry, Spranger
Production:

Location: FSL. Art Vol. d94 no. 88 (f). 'Garrick and his Contemporaries' collected by George Daniel.