Image 25 of 42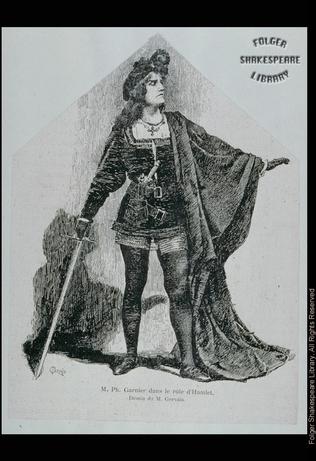 (Click on image to get enlarged view.)

Description: Portrait of Ph. Garnier as Hamlet. Full length, forward, facing right, eyes raised. He holds sword in right hand, point to ground, to left. His left arm is extended near horizontally to right. He has plumed hat and full length cape draped over left arm. He has shoulder-length hair. It is not clear whether he has very short tunic or trunk hose.

Folger Act/Sc/L: 1.5.2
Arden Act/Sc/L: 1.5.1
TLN: 682.00

Artist: Gervais, P[ercy ?]
Artist (Original work): Gervais, P[ercy ?]
Date:
Date (Original work):
Medium: Engraving (woodcut) (signed)
Size: 16 x 12.5 cms; 6 1/4 x 5 in (possibly trimmed)
Actor: Garnier, Ph.
Production:

Location: FSL. PR2807 P65b ex. ill. Henry P. Phelps, HAMLET FROM THE ACTORS' STANDPOINT (New York: Werner, 1890), unnumbered.