Image 26 of 42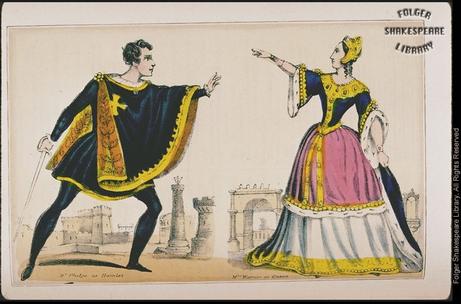 (Click on image to get enlarged view.)

Description: Portrait of Samuel Phelps as Hamlet and Mrs. Warner as Gertrude in style of penny plain prints. Hamlet is full length, standing, legs wide apart, forward, facing right in profile. In right hand he holds sword with point to ground behind him. His left arm is extended horizontally to the right, palm forward and fingers extended. His weight is on forward (left) foot as though he has been moving to right but has now stopped. He wears thigh-length, gold-trimmed tunic and short, gold-trimmed cape. There is a large gold cross on the front of his cape. He is bare headed. In the background, glimpsed between his legs, is the castle. Caption below him reads: 'Mr Phelps as Hamlet.' The moment depicted would appear to be that at the opening of Act 1 scene 5. Mrs. Warner is depicted full length, forward, facing left. Her right arm is fully extended to left at eye level. She appears to be pointing with her index finger but at what is unclear. Her left arm is at her side. She wears a blue and gold, ermine-trimmed top and gold headdress. Her upper ermine-lined skirt is scarlet with gold trim. Below is a full length white skirt with gold trim, and at her back is a blue, ermine-lined outer skirt. Below is the caption: 'Mrs Warner as Qneen [sic]'.

Folger Act/Sc/L: 1.5.2
Arden Act/Sc/L: 1.5.1
TLN: 682.00

Artist: Anonymous
Artist (Original work): Anonymous
Date:
Date (Original work):
Medium: Lithograph (?) (coloured). In style of penny plain.
Size: 12.5 x 42.5 cms; 5 x 7 3/4 in
Actor: Phelps, Samuel
Production:

Location: FSL. PR2755 K7 A2 copy 4 vol. 9 Sh. Coll. Extra-illustrated THE PICTORIAL EDITION OF THE WORK OF SHAKSPERE, ed. Charles Knight (London: Knight, n.d.), opp. p. 106.