Image 36 of 42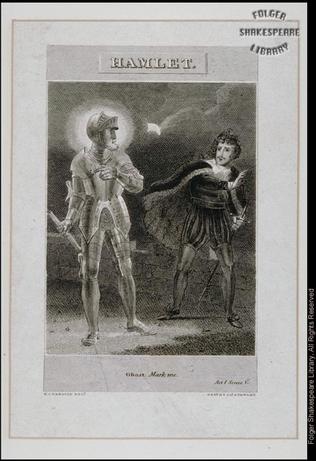 (Click on image to get enlarged view.)

Description: Ghost in armour with visor up at left, facing right but as though turning to left. His head is silhouetted against a full moon. Hamlet at right in trunkhose and short cloak. He holds sword in its scabbard with left hand and gestures towards the Ghost with his right hand. The wall of the battlements in the background. Above picture is title 'HAMLET' and below picture is quotation: 'Mark me.'

Folger Act/Sc/L: 1.5.3
Arden Act/Sc/L: 1.5.2
TLN: 683.00

Artist: Stewart, James
Artist (Original work): Corbould, Henry
Date:
Date (Original work):
Medium: Engraving
Size: 8.5 x 6.6 cms; 3 5/16 x 2 1/2 in (picture only)
Actor:
Production:

Location:FSL. Art Vol. c33 no. 14b.