Image 37 of 42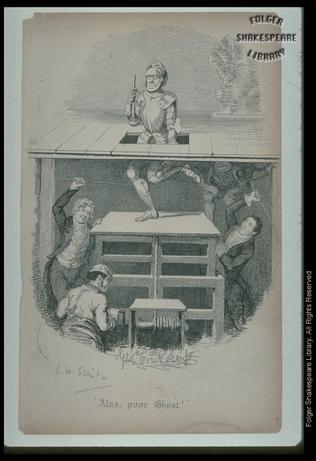 (Click on image to get enlarged view.)

Description: 'Alas, poor ghost!' Robert William Elliston (1774-1831) and accomplice whipping unprotected legs of Ghost (William Dowton 1764-1851) with rattan canes as he is being lowered through a trap. The Ghost wears armour and carries a truncheon. His legs have already disappeared from the sight of the audience through the trap. He has a pained expression on his face, and the general effect is intended to be comic. In the foreground a man winds the winch that lowers the trap upon which the Ghost is standing.

Folger Act/Sc/L: 1.5.8
Arden Act/Sc/L: 1.5.4
TLN: 688.00

Artist:
Artist (Original work): Cruikshank, George
Date: 1844
Date (Original work):
Medium: Etching (signed)
Size: 13 x 9.7 cms; 5 x 3 7/8 in (irregular) (16.5 x 10.2 full sh)
Actor: Dowton, William
Production:

Location:FSL. Art File E47 no. 11. See George Raymond's THE LIFE AND ENTERPRISES OF ROBERT ELLISTON, 1844.