Image 14 of 42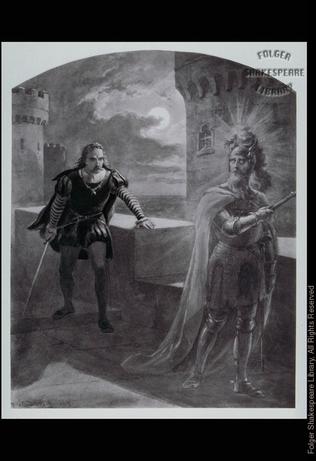 (Click on image to get enlarged view.)

Description: Quotation preceding picture: 'Whither wilt thou lead me? speak, I'll go no farther.' The platform, castle towers in background at left and right, the sea in the distance at centre, the whole backlit by a partially obscured full moon. At left, Hamlet, his sword drawn but pointing to the ground. His right hand rests on the wall that runs diagonally across the centre of the picture. He faces forward, his feet wide apart. He is leaning slightly forward. He appears to have been following the Ghost who stands at right foreground. This latter is dressed in armour and wears a plumed helmet with the visor up. He has a long cloak that reaches the ground. He has a truncheon in his right hand and appears to be beckoning Hamlet with it to follow him further. His head is turned over his right shoulder in the direction of Hamlet.

Folger Act/Sc/L: 1.5.2
Arden Act/Sc/L: 1.5.1
TLN: 682.00

Artist: Darley, Felix Octavius Carr
Artist (Original work): Darley, Felix Octavius Carr
Date: 1888
Date (Original work): 1884
Medium: Photogravure of 1884 design by Darley (signed)
Size: 22.5 x 18 cms; 11 x 8 3/4 in
Actor:
Production:

Location: FSL. Art Vol. f80 no. 7. DARLEY GALLERY OF SHAKSPERIAN ILLUSTRATIONS (New York: Stoddart, 1884); FSL. PR2752 1888e Sh. Coll. THE COMPLETE WORKS OF SHAKESPEARE, ed. Wm. Cullen Bryant (New York: Amies, 1888), before p. 1189; FSL. PR2752 1894d Sh. Coll.