Image 16 of 42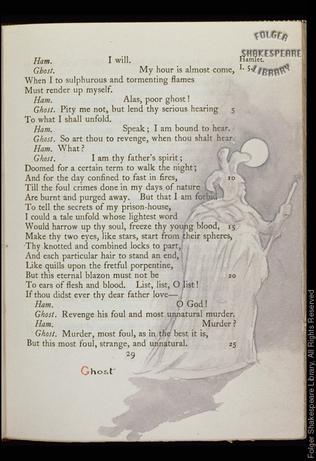 (Click on image to get enlarged view.)

Description: Ghost in right margin, moving to right. A tall, spectral figure in grey wash, he wears a long cloak and a plumed helmet. He is silhouetted against a full moon. He carries a long truncheon.

Folger Act/Sc/L: 1.5.2
Arden Act/Sc/L: 1.5.1
TLN: 682.00

Artist: Drake, William
Artist (Original work): Drake, William
Date:
Date (Original work):
Medium: Watercolour
Size: 18 x 13 cms; 7 1/8 x 5 1/8 in (irregular)
Actor:
Production:

Location: FSL. Art Vol. a35, p. 29. From extra-illustrated edition of THE WORKS OF WILLIAM SHAKESPEARE (Westminster: Constable; & Philadelphia: Lippincott, 1857), Vol. XVI.