Image 17 of 42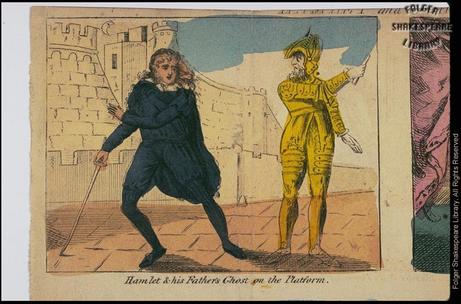 (Click on image to get enlarged view.)

Description: Hamlet and the Ghost upon the platform before the castle. Hamlet at left, with sword drawn, legs wide apart, to left but facing to right with a wild expression upon his face. The point of his sword is to the ground at left. Hamlet wears dark blue doublet, breeches, hose and short cloak. The Ghost at right stands with body forward but facing left in profile towards Hamlet. His right arm is across his body and points with his truncheon to the right. The Ghost is in full plate armour, coloured gold. Title below: 'Hamlet & his Father's Ghost on the Platform.'

Folger Act/Sc/L: 1.5.2
Arden Act/Sc/L: 1.5.1
TLN: 682.00

Artist: Anonymous
Artist (Original work): Anonymous
Date: 1823 (42 June)
Date (Original work):
Medium: Engraving (partly coloured)
Size: 8 x 10.5 cms; 3 1/8 x 4 1/8 in
Actor:
Production:

Location: FSL. Art Vol. e42 no. 1 (detail, foldout top left). Frontispiece engraving for John Willis, THE LIVES AND TRAGICAL DEATHS OF HAMLET, PRINCE OF DENMARK, AND THE LOVELY OPHELIA (London: Hodgson [c.1830]).