Image 27 of 42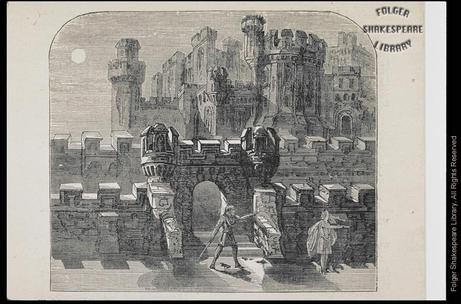 (Click on image to get enlarged view.)

Description:The platform at Elsinore before a stone castellated wall that runs horizontally across the plane of the picture. There is a large stone gate at the centre of this wall, before which stands Hamlet. Behind is a second wall and at centre and right the towers of the castle. At upper left is full moon, backlighting the scene. The entire picture is done from a raised perspective, as if the artist is sitting in the gallery of the theatre. Hamlet stands with feet wide apart facing right. His left arm is fully extended to the right, and he appears to be pointing towards the Ghost at right. In his right hand, he holds behind him his sword, the point towards the ground behind him. He wears a tunic and appears to have shoulder-length hair in the manner of Booth. To the right, foward but facing left over right shoulder towards Hamlet, is the Ghost. He points with his right arm fully extended and holding what appears to be a truncheon towards the right as if beckoning Hamlet to follow him in that direction. He appears to wear a tunic (of armour?) a cloak and a hood.

Folger Act/Sc/L: 1.5.2
Arden Act/Sc/L: 1.5.1
TLN: 682.00

Artist: Anonymous
Artist (Original work): Witham, Charles
Date: 1866
Date (Original work):
Medium: Engraving (unsigned and undated)
Size: 9.5 x 11 cms; 3 3/4 x 4 1/2 in (arched)
Actor: Booth, Edwin
Production: Winter Garden, 1864-5 (Edwin Booth)

Location: FSL. PR2807 A47 c.1 Sh. Coll., from HAMLET, AS PERFORMED BY EDWIN BOOTH (New York: Baker & Godwin, [1866]), p. 10; FSL. PR2807 A36 Sh. Coll. HAMLET ... AS PERFORMED BY LAWRENCE BARRETT (New York: Henry Hinton, n.d.], p. 10.